---
504106 (TYPE 2) - Pipe, Early Reservoir to CB Brake Master Cylinder, LHD
£12.00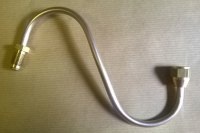 Pipe, Early Reservoir to CB Brake Master Cylinder, LHD

Manufactured from 1/4" copper-nickel alloy pipe and solid brass unions.
Suitable only for:
Series 2 models with early type reservoir with both outlets to the bottom to front inlet port of the CB type Master Cylinder. LHD models only.

Supplied with bends pre-formed.
Supercedes 504136, Reservoir Tank and Pipe Assembly. Now manufactured and supplied as seperate components.
Manufactured by Pegasus Parts.