---
PSK 1105 - Seals Kit, Front Axle Brake Calipers, 46mm Pistons
£23.10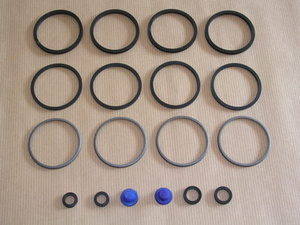 Seals Kit, Front Axle Brake Calipers, 46mm Pistons
Suitable only for:
110 Defender upto VIN 930434.

127/130 Defender upto VIN 930545.

90 Defender models from VIN HA701010 to 930455.
i.e. models with the larger 46mm diameter pistons.
Kit comprises:
4 x Piston Pressure Seal

4 x Piston Wiping Seal

4 x Seal Retainer Ring

4 x Fluid Channel Seal

2 x Bleed Nipple Dust Cover

Kit includes the small Caliper Fluid Channel Seals, not normally supplied with Piston Seals Kit.