---
PSK 1147 - Window Channel Kit, Station Wagon Rear Side Window
£35.90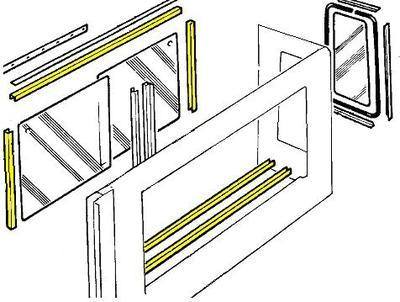 Window Channel Kit, Station Wagon Rear Side Window
This is a kit of replacement specification parts to renew the Window Channels in the Rear Side Window of factory built Station Wagon models. i.e. Windows with 2 sliding panes of glass.

Kit comprises items highlighted in yellow in drawing:

Bottom Window Channel x 2

Rear Window Channel

Front Window Channel


Top Window Channel x 2 (only one illustrated)

Countersunk Head Stainless Steel Self-tapping Screws x 26 off (not illustrated)

Kit quantities are for one Station Wagon Rear Side Window.
Suitable only for: