---
PSK 1158 - Grommets and Knobs Kit, Series 2a, 1967 to 1971
£29.50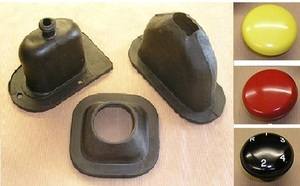 Grommets and Knobs Kit, Series 2a, 1967 to 1971
This is a set of Rubber Grommets and Knobs for late Series 2a models.
Suitable only for:
Kit comprises:
Main Gear Lever Grommet.

Transfer Lever Grommet

Hand Brake Lever Grommet for 'long' type lever.

Main Gear Lever Knob, 'Screw-on' type.

Red Transfer Lever Knob

Yellow Four Wheel Drive Knob.
Suitable also for earlier vehicles retro-fitted with the later 'long' hand brake lever.