---
PSK 1222 - Complete Set of Window Glass Channels, Series 2/2a, 88" Station Wagon
£99.40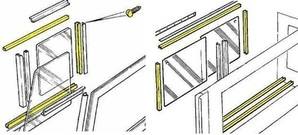 Complete Set of Window Glass Channels, Series 2/2a, 88" Station Wagon
Pegasus Parts kits for 1958 to 1971 Series 2/2a 88" Station Wagons are identical to the originals. Their fit and function are correct because they're made with the same materials that Rover originally used. These kits are however supplied with stainless steel screws, unlike the originals.
Consolidated kit comprising of all the Window Channels and stainless screws for the Front Door Tops and the factory built Station Wagon Rear Sliding Windows.

Kit is suitable only for models where Front Door sliding window is locked into position at the top of the glass.
Kit comprises items highlighted in yellow in drawings. (Drawings show incorrect dome headed self-tapping screws):
For Front Door Tops:

For Station Wagon Rear Sliding Windows:
Upper Channel x 4 (only one piece illustrated)

Lower Channel x 4

Upright Channel x 4


Countersunk Head Stainless Steel Screws x 52 (only one illustrated)
All 18 channels are pre-cut to the correct lengths.
Please note: This kit does not include the alloy filler or packing pieces. These are available as seperate kits.